We're constantly working to make eWeather HD the best weather app for iPhone, iPad and Apple Watch. With dozens of new features the app becomes more than just a beautiful and informative weather app - it is a powerful yet easy-to-use weather station right on your Apple Watch, iPhone and iPad. The app presents its information in an amazingly intuitive format, with a simple, user-friendly interface, gorgeous animations and single-touch access to weather forecast, ranging from a single hour to a year.
eWeather HD 3.6 introduces a Glance for Apple Watch app that provides all important weather data at a glance. eWeather HD also includes full-featured Apple Watch app that presents weather in a very creative and intuitive way using animated graphics. It's designed to look beautiful and work beautifully.
AppStore:
https://geo.itunes.apple.com/us/app/...8&at=10lbag=pp
eWeather HD for Apple Watch provides the most accurate hour-by-hour weather forecast, temperature of air, sky conditions, "feels like" temperatures, UV index, chance of precipitations, wind speed and direction, geomagnetic activity index, humidity, dew point.
In addition to new Apple Watch weather app, eWeather 3.6 HD introduces a new feature - location-aware alerts for severe weather events. To receive alerts wherever you go, you ever don't need to start the app - you'll get weather warnings for your location automatically using PUSH notifications.
In addition to severe weather alerts, you may setup current temperature on home screen badge and weather reports on lock screen for your current location or any other location added from list of favorites. You may even add four additional places to be informed about weather where your relatives live.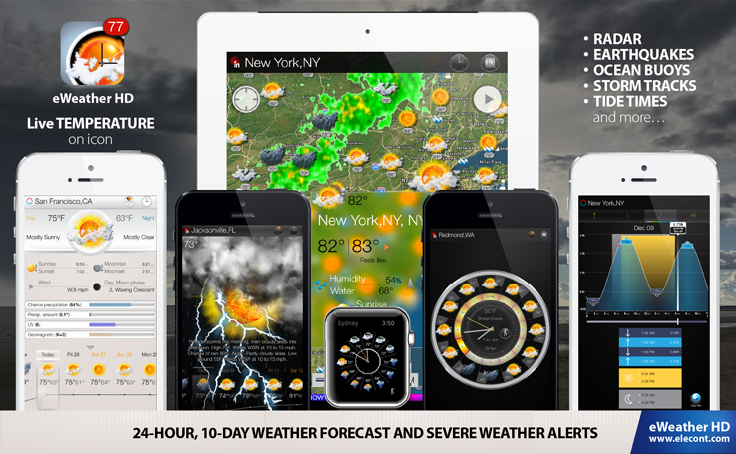 Enjoy more than a dozen new features with your eWeather HD 3.6:
* Geo-targeted severe-weather alerts and home screen badge. New eWeather HD uses your current location (even if the app is in background) to send you severe weather alerts for your physical location and (or) display temperature on home screen badge.
* Background updates. eWeather HD refreshes weather data in background (when the app is closed) using smart algorithms so you'll get updated data when you open the app. It works even for "Follow me" locations.
* Spotlight. Now all your cities, saved in list of favorites are accessible directly from Spotlight.
* 3D-touch quick actions (using force touch on home screen).
* Weather Glance for Apple Watch. The glance provides immediately relevant information about current weather conditions and weather forecast for the next 9 hours. Tap on the glance to open Apple Watch app.
* Multiple locations in PUSH notifications for severe weather alerts (U.S. only). You may specify up to 5 different cities for PUSH alerting.
* Ocean/sea buoy stations (see Alerts/Earthquakes/Tide/365 section). eWeather HD provides up to ten different values from over 700 stations across the world. The amount of reported data depends on buoy station. By default the app reports data from closest buoy, however you may override it and choose the best station for your location.
* Improved tide predictions for over 4000 locations in the U.S.
* Support for multiple Apple Watches.
* Customizable severe weather alerts for PUSH notifications. Enable or disable particular severe weather events from over 127 different types for PUSH notifications.
eWeather HD introduces a scheduler for severe weather alerts. Now you can specify a time when you want to get push notifications for severe-weather events:
* When alert starts (the app currently works in that mode)
* On time of publication,
* Adjustable delay (up to 60 minutes) before alert becomes active
Please note that time of publication depends on NWS: in some cases they publish alerts just before the activation time.
eWeather HD combines all possible weather information packed inside a beautiful user-interface, widgets and Apple Watch.
eWeather HD provides local and international weather forecast, ranging from a single hour to a year, severe weather alerts for U.S.A. and European countries, high-resolution radar images, unique "weather clock" graphics, animated weather maps, sea surface temperatures, tide predictions, near-realtime data from over 600 NOAA buoys, earthquakes and much more.
eWeather HD provides instant access to year-round weather, climate data and sea-surface temperatures. Using original visualization the app provides all important weather-data at a glance - sun, clouds, rain, snow, local weather extremes and records, holiday weather, day/night temperatures, sky conditions, probability of precipitations and temperature of water. It is an indispensable tool for long weather planning, finding a best place and time for vacation, wedding, hiking or other outdoor activity. Summer is a great time to travel. Discover your best beach vacation spots with new eWeather HD.