Microsoft, in an effort to tie Windows Mobile and Xbox Live together, has put up their "
Help Wanted
" sign.
Quote:
" The LIVE Engagement Team is looking for a LIVE Community Director to manage its LIVE community strategy and execution across a range of properties, from Xbox LIVE to Windows Mobile. This senior position will play a vital role in the community space as the LIVE Engagement team builds and program's Microsoft's next-generation, LIVE-enabled casual and social gaming platform across the Web, the console, mobile and beyond."
For those of you who don't know what Xbox Live is, I'll give you a brief recap:
Quote:
Xbox Live is an online multiplayer gaming and content delivery system supporting voice chat through a headset, bundled with the Xbox 360 premium package and the Xbox Live starter kit or available separately. There is a friends list of other users, as well as a mail-like system of either text or voice messages which can be used to send a message to an offline user.
On the Xbox 360, whenever the user's console is powered on and is signed in to Xbox Live, the user's friends list and ability to send messages is available. On the Xbox, this is only available in Xbox Live or Live Aware games.
The system also reports friends' activity on their system, typically the game being played, although the system supports more detailed information (the player's progress through the game, for example).
Remember back in '06 when screenshots of Live Anywhere were first posted on the web?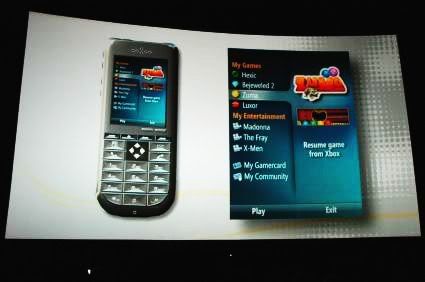 I think its time for Microsoft to finally announce
Live Anywhere
for Windows Mobile. It may give it the boost it needs to say a major player in the Smartphone market. What do you think?
Thanks to darren.wlsn1 for the story.
Source