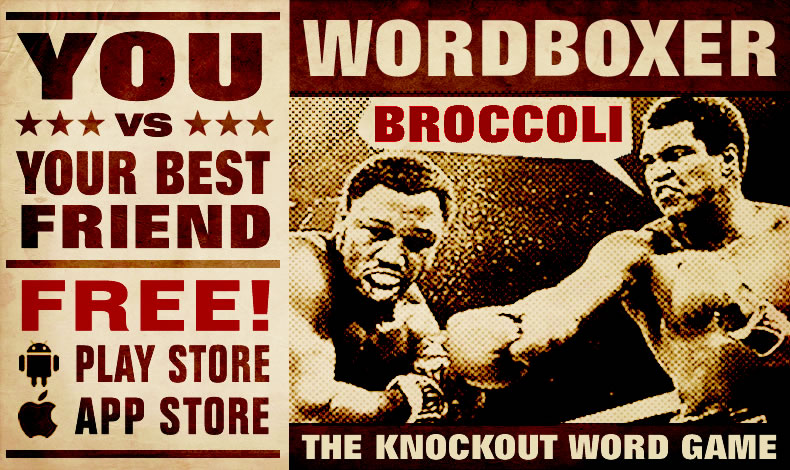 Fly like a butterfly, sting like a bee - Muhammad Ali
WORDBOXER: THE KNOCKOUT WORD GAME!
Discover better words than your opponents.
What will be your strategy? Defend or attack?
Feel the adrenaline rush when you discover that knockout word.
Fight yourself to a top ranking in your Boxing Club!
UNIQUE WORD GAME
WordBoxer is a turn-based strategic word game unlike any other word game available in the Apple App Store. The game play is simple and very addictive: Knock out your opponent by reducing their score to zero or come out on top after 12 rounds! Players score points by finding words in letter grids. These points are either subtracted from the opponent's score or added on to their own score depending on what letters are played, adding a strategic feature not seen in word games before!
BOXING CLUB: SOCIAL & COMPETITIVE
Moreover, WordBoxer includes a unique social feature: the Boxing Club. The Boxing Club provides a ranking list for selected friends and keeps track of results, statistics and achievements of individual players, contributing to the competitive nature of the game.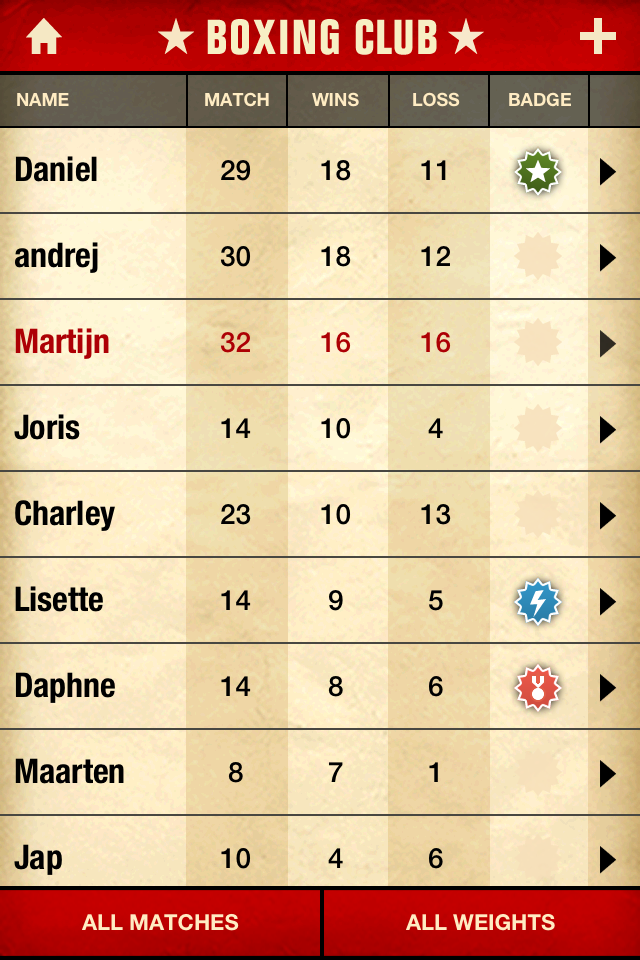 FEATURE HIGHLIGHTS
• Play against friends, a random opponent or practice against the computer.
• Compare your results and achievements with those of your friends in the Boxing Club.
• Challenge your Facebook friends from within WordBoxer.
• Play in three different classes: Lightweight, Middleweight and Heavyweight.
• Chat with your opponent during the game.
• Play multiple simultaneous games.
• Get a notification when it's your turn to play.
• Check the definition of a played word in a single tap.
TECHNICAL
WordBoxer is available for IOS devices with IOS5 or higher and for Android devices running Android 2.1 or higher.
PRICE
WordBoxer can be can be downloaded for free (with banner ads and max. 10 simultaneous games) from the
Apple App Store and Google Play Store. It comes with an in-app purchase to upgrade to WordBoxer Premium (no ads and max. 25 simultaneous games) for $1,99 / €1,79.
LANGUAGE SUPPORT
WordBoxer is available in English, French, Italian, Spanish, German, Dutch, Swedish, Danish, Bahasa Indonesia and Catalan.
LINKS
Android:
https://play.google.com/store/apps/d...wordboxer.game
iPhone/iPad :
https://itunes.apple.com/app/wordboxer/id522552895
Please visit our website
WordBoxer |
or Facebook page facebook.com/WordBoxer